Peter Sarsgaard Biography
Date of Birth
7 March 1971, Belleville, Illinois, USA
Birth Name
John Peter Sarsgaard
Height
6' (1.83 m)
Mini Biography
Coming on the scene fairly recently, Illinois-born actor Peter Sarsgaard has already demonstrated an amazing flair for harsh, disturbing, dark-edged characters despite his boyish countenance. A graduate of St. Louis' Washington University where he majored in history and literature, he was a co-founder of the comedy improvisational group Mama's Pot Roast and trained initially with the Actors' Studio in New York. Such off-Broadway productions included Horton Foote's "Laura Dennis" and John Cameron Mitchell's "Kingdom of Earth."
He made his screen debut in Tim Robbins' Dead Man Walking (1995) and was given more sizable roles in Desert Blue (1998) and The Man in the Iron Mask (1998/I), as the ill-fated son of the Musketeer Athos, played by John Malkovich. Peter then started gracing the art-house circuit, making a violent, searing impression as a homophobic killer in Boys Don't Cry (1999) starring two-time Oscar-winner Hilary Swank as a trans-gendered teen.
Other impressionable offbeat roles for Peter that have thrilled critics from coast to coast include Shattered Glass (2003), which earned him a slew of awards including the prestigious National Society of Film Critics Award. Prior to that, he showed off his versatility with portrayals ranging from a Russian nuclear reactor officer in K-19: The Widowmaker (2002) to a drug addict in The Salton Sea (2002). Other heralded performances in Garden State (2004) and Kinsey (2004) only prove that, at this rate, it is only a matter of time before the Oscar comes rapping on this man's door.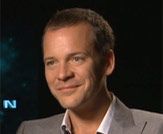 Ones To Watch: Peter Sarsgaard
Peter Sarsgaard Interview