Maggie Gyllenhaal Biography
Maggie Gyllenhaal is an award-winning American film actress born into a Hollywood family. Gyllenhaal was nominated for an Oscar for her performance in the independent film, Crazy Heart, in 2009.
Actress. Born Maggie Ruth Gyllenhaal on November 16, 1977, in New York City. Gyllenhaal's parents were both in the entertainment industry; her mother, Naomi Finer, was an Oscar-nominated television producer. Her father, Stephen Gyllenhaal, was an Emmy-nominated film director. Gyllenhaal's brother, Jake, was also a film actor.
When Maggie Gyllenhaal was still an infant, her family moved to Los Angeles, California. Gyllenhaal and her brother often performed plays together at home for the family, but Maggie was not particularly attracted to acting as a child. It wasn't until she in her early teens that she began taking drama classes at the prestigious Harvard-Wakeland prep academy in L.A, where she attended school. She landed her big screen debut in 1992, in her father's film Waterland. The following year, she appeared with her brother in their father's film Dangerous Woman (1993).
In 1995, Maggie Gyllenhaal graduated high school and moved back to New York City to attend Columbia University. During her years at Columbia, Gyllenhaal appeared in three more of her father's projects, including the movie Homegrown (1998). Gyllenhaal earned her B.A. in English Literature in 1999, followed by a brief stint at the Royal Academy of Dramatic Arts in London, England. In 2001, Gyllenhaal had a long run in the stage production of Closer.
She then returned to the big screen in the film Riding in Cars with Boys (2001), starring Drew Barrymore and Brittany Murphy, followed by an co-starring role in the famous independent film Donnie Darko, where she played the sister to her real-life brother Jake. In 2002, she showed her range by appearing in the light, romantic comedy 40 Days and 40 Nights. That same year, she landed had her first starring role across from James Spader in the dark comedy Secretary, a film that won a special prize at the 2001 Sundance Film Festival. The movie created Hollywood buzz around Gyllenhall, and launched the actress to stardom as an indie film darling. The film also earned Maggie her first major award recognition, including a Golden Globe nomination for Best Actress.
Gyllenhaal was developing a reputation as a serious actress, and she did not disappoint in 2002, when she appeared in two Charlie Kaufman films: Adaptation, featuring Nicolas Cage and Meryl Streep, and Confessions of a Dangerous Mind, with Sam Rockwell and Drew Barrymore. In 2003, she returned to mainstream film with a starring role opposite Julia Roberts in Mona Lisa Smile. In 2005, Gyllenhaal received an Independent Spirit Award nomination for Best Supporting Female for her performance in the film Happy Endings.
Gyllenhaal receieved professional recognition again in 2006, this time for her performance in the independent film, SherryBaby. The role earned her a second Golden Globe nomination, and much critical acclaim. That same year, Gyllenhaal gave birth to her daughter Ramona, and married her long-time boyfriend, actor Peter Sarsgaard. After some time off to be with her family, Gyllenhaal returned to film, this time to replace actress Katie Holmes in the blockbuster Batman sequel, The Dark Knight.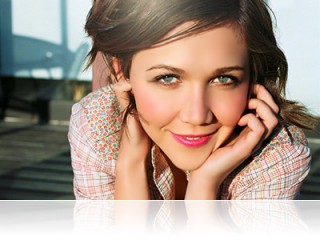 Five Questions: Maggie Gyllenhaal
Maggie Gyllenhaal - Donnie Darko