Joe Jonas biography
Joseph Adam "Joe" Jonas was born on August 15, 1989 in Casa Grande, Arizona but grew up in Wyckoff, New Jersey. When he was younger, he wanted to be a famous comedian. He dreamt of auditioning for sketch comedy shows but was often distracted with his connection to music. He was always fond of listening to different kinds of music especially rock. During his younger years, he was part of the local church choir. Joe was home-schooled as a seventh grader.
Joe plays a variety of musical instruments including keyboard, guitar and tambourine. He owns five guitars.
Joe Jonas enjoys wearing headbands and spends his free time jogging, running, working out and playing the board game Monopoly. He names Natalie Portman as his favorite actress and Jim Carey as his favorite actor. The movies that he loves are Dumb and Dumber, School for Scoundrels and High School Musical. When it comes to bands, he enjoys the music of Copeland and Switchfoot. His favorite solo artist is Johnny Lang.
Joe likes cutlet sandwiches with mayo, chocolate marshmallow ice cream and orange Gatorade. His hobbies include collecting G.I. Jones action figures and different pens. In sports, he plays soccer and wiffleball.
Joe Jonas also takes time to read books. While his favorite author is Dr. Seuss, his most beloved book is the science fantasy novel written by Madeleine L'Engle, A Wrinkle in Time.
Joe wrote "Time For Me to Fly," a song that was included in the soundtrack of Aquamarine.
Joe's favorite quote is this: "Sometimes the only way to win is to die trying."
When it comes to courtship, he is very careful with his words. He once said, "'I Love You' isn't something to say too quickly. It's not just a word, though a lot of guys will just throw it out there. Being in love is when things are going so well that happiness is beyond belief. You're 200 percent happy and excited."
In 2005, he and his brothers Nicholas and Kevin formed the Jonas Brothers band. To date, the group has released three Billboard chart-topping albums entitled Its About Time, Jonas Brothers and Jonas Brothers: Bonus Jonas Edition. Among their hit singles were "Mandy," "Year 3000," "Poor Unfortunate Souls," "Kids of the Future" and "Hold On." They also won Best Group at the 2008 Nickelodeon's Kid Choice Awards.
Joe Jonas can be seen on Disney Channel's realty TV series Jonas Brothers: Living the Dream. The show follows the pop rock band as they travel around North America for the Look Me In The Eyes Tour. Aside from concerts, the show will also feature behind-the-scenes looks as the brothers rehearse, travel and interact with their families and friends. He also stars in the 2009 Disney Channel original series J.O.N.A.S, where the brothers play teen idols who struggle to lead "normal" lives.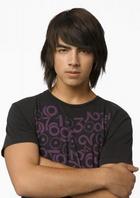 Joe Jonas Aked Who's Better
Joe Jonas Teases "See No More" Single