Iman Biography
Model, business executive. Born Iman Mohamed Abdulmajid on July 25, 1955, in Mogadishu, Somalia. Iman is sometimes described as her native land's most famous export.
One of the most sought-after fashion models of the 1970s and 1980s, Iman became a successful business executive in the 1990s with her own line of cosmetics. Married to rock star David Bowie since 1992, she became a mother for the second time at the age of 44 in the summer of 2000, but it was just one of many boundaries the enigmatic entrepreneur and social activist has broken in her lifetime. "She broadened the definition of beauty," declared Washington Postwriter Robin Givhan of Iman's stunning, exotic looks. "She made earthiness sensual. She helped to transform fashion into entertainment and models into personalities."
Iman's mother, a gynecologist, gave her daughter a man's name when she arrived into the world with the hope that this would better prepare her for the challenges she would face as a female in Muslim East Africa. Her parents were decidedly progressive: Iman's father was a diplomat stationed in Tanzania, and under the law he could have had multiple wives, but chose to keep just one. The parents agreed that their daughter should be sent to a private Catholic school for girls, which was considered more progressive than the standard Islamic education available to young females in the 1960s. There, Iman thrived. "I was a very nerdy child," she told husband David Bowie when he interviewed her for Interview in 1994. "I never fit in, so I became laboriously studious."
By 1973, Iman was 18 and a student of political science at the University of Nairobi. She also worked as a translator to help pay her tuition costs. Photographer Peter Beard, a well-known figure in the fashion world, saw her one day on a street in Nairobi and was captivated by her long neck, high forehead, and gamine grace. He began following her, and finally approached her to ask if she had ever been photographed. "The first thing I thought was he wanted me for prostitution of naked pictures," Iman recalled laughingly about that day in an interview with Knight-Ridder/Tribune News Service writer Roy H. Campbell. "I had never seen Vogue. I didn't read fashion magazines, I read Time andNewsweek. " But when Beard offered to pay her, she reconsidered, and asked for the amount due to the college for her tuition, $8,000; Beard agreed.
Beard shot rolls of film of Iman that day, and took them back to New York with him. He then spent four months trying to convince his "discovery" to move to New York and begin modeling professionally. He even leaked items to the press about her fantastical beauty, and exaggeratedly claimed that she was descended from African royalty and that he had "found" her in the jungle. Another story alleged that she was a goat herder in the desert. When Iman finally capitulated and flew to New York, dozens of photographers greeted her at the airport. A press conference that day initiated her into the vagaries of celebrity and fame. "I was very surprised and offended that they could be so gullible to believe that all Africans come out of the jungle," Iman told Campbell. "Somalia is a desert. I had never even seen a jungle. And I was even more insulted when they started asking the questions and talking only to Peter because they thought I did not speak English and I could speak English and five [other] languages."
Iman
Iman
Iman
Iman
Iman
Iman
Iman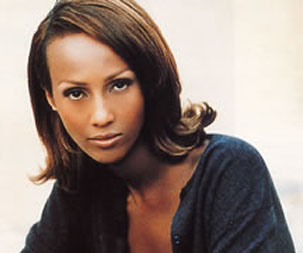 Iman
Off The Runway: Iman & Ubah